Quick recipe finder Braised bean curd with garlic and pepper
A great vegetarian dish as part of a Chinese banquet or just a nice midweek supper on its own with steamed rice.
Ingredients
For the marinade
For the bean curd
Method
To make the marinade, grind all the ingredients together in a pestle and mortar to form a paste.

Place the beancurd triangles in a flat dish and cover with the marinade. Leave for at least 30 minutes (or overnight).

Heat the oil and fry the marinated beancurd until golden brown on both sides. Remove from the pan and drain on kitchen paper.

Tip out any excess oil remaining in the pan, then place the vegetable stock, soy sauce, tomato purée and vinegar into the pan together with the arrowroot which should be made into a paste with a little water. Bring to the boil, stirring to thicken, and return the beancurd to the pan to heat through.

Remove the pan from the heat and stir in the black pepper and sesame oil.

Tranfer to a serving dish and garnish with cucumber and spring onions.
Related Recipes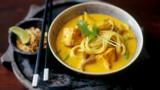 Malaysian-spiced noodles with tofu