Quick recipe finder Boxing Day brunch 'kedgeree'
Nathan Outlaw turns leftover Christmas meats into a delicious dish that will fill up the family after a Boxing Day walk.

By Nathan Outlaw From Christmas Kitchen with James Martin
Ingredients
drizzle light rapeseed oil
50g/1¾oz unsalted butter
2 shallots, finely chopped
1 leek, white part only, thinly sliced
1 celery stalk, thinly sliced
1 garlic clove, chopped
300g/10½oz long-grain or basmati rice, washed and drained
700ml/1 pint 4½fl oz chicken or turkey stock
pinch saffron strands
½ tsp medium curry powder
200g/7oz cooked leftover turkey, leg meat only, cut into pieces
200g/7oz cooked leftover ham, cut into pieces
3 free-range eggs
2 tsp chopped fresh parsley
2 tsp chopped fresh sage
salt and freshly ground black pepper
lemon wedges, to serve
Method
Preheat the oven to 200C/180C Fan/Gas 6.

Heat the oil and butter in an ovenproof, lidded saucepan over a medium heat. When the butter is foaming, add the shallots, leek, celery and garlic and fry for 2-3 minutes, stirring well, until softened but not coloured.

Add the rice and continue to cook, stirring well, for a 1 minute.

Pour in the stock, then add the bay leaves, saffron and curry powder and heat until simmering.

Add the leftover cooked meats, return the mixture to a simmer, then cover the pan with the lid.

Transfer the pan to the oven and cook for 12-15 minutes, until the rice is tender.

Meanwhile, carefully lower the eggs into a pan of simmering water and cook for 6 minutes. Drain well and run the eggs under a cold running tap. Peel the eggs and cut them into quarters lengthways.

When the kedgeree is cooked, stir through the parsley and sage, then fold in the egg quarters. Season with salt and pepper.

To serve, take the pan to the table and spoon it into bowls. Garnish with a lemon wedge and serve with bread and butter, if desired.
Related Recipes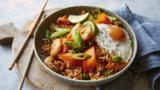 Spicy prawn rice with fried egg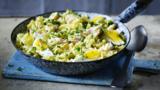 Really good kedgeree
This recipe is from…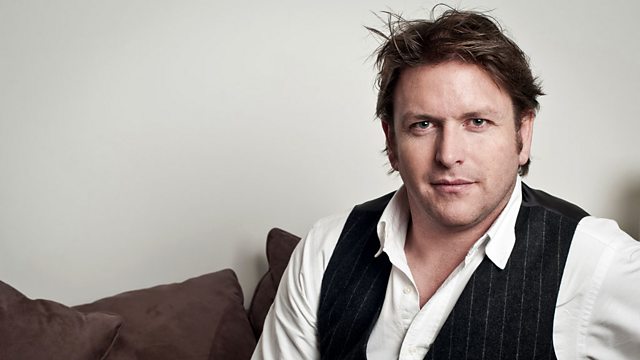 Christmas Kitchen with James Martin
Episode 4
BBC One
Recipes from this episode