Quick recipe finder Borlotti and rosemary ragù with leeks and garlic crumbs
A sprinkling of crisp garlic croûtons adds something special to this comforting bean stew. This is designed to be a low cost recipe.

By Bryn Williams From Great British Budget Menu
Ingredients
Method
Heat a large saucepan or frying pan over a medium heat. Add the oil, leeks and a pinch of salt. Gently fry the leeks for 5-8 minutes, or until soft and translucent.

Add the borlotti beans, rosemary sprigs and stock to the pan and stir to mix. Cover with a lid, bring to a simmer and cook over a medium-low heat for 20 minutes, or until the ragù is thickened a little and the borlotti beans softened.

Meanwhile, tear the bread into small pieces. Heat a large frying pan over a medium heat, add a knob of butter and, once melted, gently fry the bread in batches until golden-brown and crisp. Remove from the pan and set aside. Add the first batch back to the pan with a little more butter and the garlic. Fry for a minute, or until the garlic is just cooked and breadcrumbs are all coated. Season with salt and pepper to taste. Remove the crumbs with a slotted spoon and mix with the remaining breadcrumbs and a pinch of salt.

Taste the borlotti bean ragù and season with salt and pepper to taste. Remove the rosemary sprigs and serve the borlotti beans with the garlic crumbs sprinkled on top.
Recipe Tips
In May 2013 this recipe was costed at £3.35 at Asda, £3.47 at Tesco and £3.93 at Sainsbury's. This recipe is designed to be made in conjunction with a
low-cost store-cupboard.
Related Recipes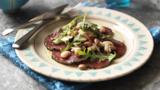 Herbed tuna carpaccio with pickled cucumber and bean salad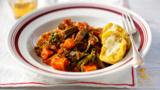 Sweet potato gumbo with cornbread muffins
This recipe is from…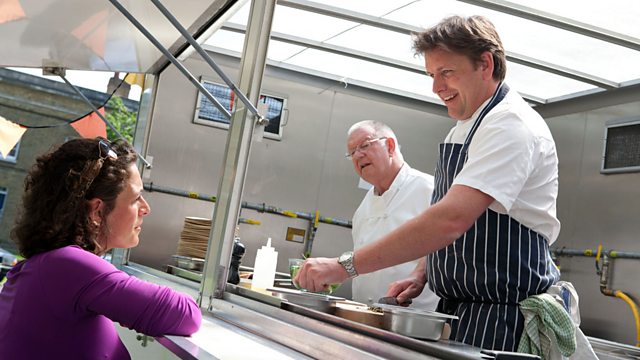 Great British Budget Menu
Great British Budget Menu
BBC One
Recipes from this episode