Quick recipe finder Boiled collar of bacon with vegetables and dumplings

By Martin Blunos From Saturday Kitchen Best Bites
Ingredients
For boiling the bacon
For stewing the bacon
For the dumplings
To serve
Method
To boil the bacon, remove the bacon joint from the soaking water and put it into a large, deep, lidded saucepan. Add the rest of the ingredients for boiling the bacon.

Pour in enough cold water to cover the joint by 2.5cm/1in. Cover with a lid, place over a high heat and bring to the boil. Reduce the heat to a simmer and cook, covered, for one hour.

Test to see if the meat is tender by piercing it with a blunt table knife. If's difficult to insert the blade, then continue cooking for another 20 minutes and test again. When the meat is tender, remove the pan from the heat and set aside.

To stew the bacon, preheat the oven to 190C/375F/Gas 5. Place a large lidded ovenproof casserole on the stove and heat until hot. Add the butter, then add the garlic, shallots and peppercorns and fry for one minute.

Add the carrots and celery and fry gently for about five minutes until lightly coloured. Remove the bacon collar from the liquid the meat was boiled in.

Cut and lift off the bacon skin with a sharp knife – it should come off in a single piece. Put the skinned bacon joint on top of the vegetables in the casserole. Add enough of the poaching liquid to cover the vegetables by 2.5cm/1in (you may need to top up with water if there is not enough).

Cover with the lid and place in the oven for 15 minutes.

Meanwhile, for the dumplings, sieve the flour, salt and mustard powder into a bowl. Stir in the suet, chopped parsley and freshly ground black pepper, to taste.

Add enough cold water to make a stiff dough that doesn't cling to the sides of the bowl. Using your hands, divide the mixture into large walnut-sized pieces and roll into neat balls in the palms of your hand.

Add the rolled dumplings to the casserole, around the joint, and place the casserole back into the oven to cook for a further 25-30 minutes. When done the dumplings should be cooked through, puffed and light. The meat will be tender and unctuous, the vegetables will have collapsed a little and the cooking liquid will have thickened.

To serve, carefully lift the meat from the casserole onto a board and cut into generous slices. Divide the vegetables equally among four plates, top with slices of the meat, surround with a few dumplings and spoon over the thickened juices. Serve with English mustard.
This recipe is from…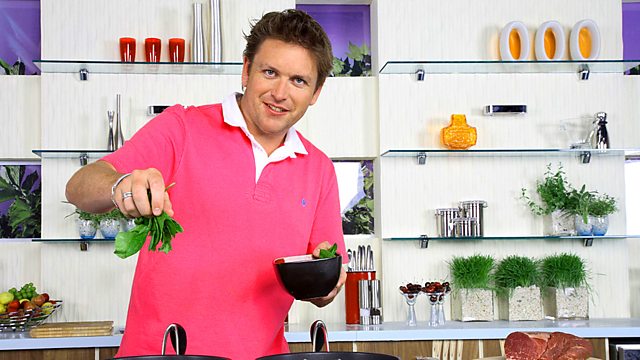 Saturday Kitchen Best Bites
222. 28/02/2016
BBC One
Recipes from this episode