Quick recipe finder Blackcurrant and peppermint macaroons
Delicate macarons flavoured with blackcurrant and mint. Fresh blackcurrants are juiced to give a powerful taste punch.

By Danny Bryden From The Great British Bake Off
Ingredients
For the macarons
For the ganache filling
Method
Preheat the oven 150C/300F/Gas 2. Blend the icing sugar and almonds in a food processor to a fine powder.

Whisk the egg whites, cream of tartar and caster sugar in a stand mixer, gently at first and gradually increasing the speed, add a drop of the food colouring just before the soft peak stage is reached, and continue until the egg whites reach the soft peak stage (the soft peak stage is when the peaks drop slightly when you lift the whisk out of the bowl).

Sift the flour and almond powder into a separate bowl, then fold in a third of the meringue. Continue to add until all the meringue is incorporated and looks smooth and glossy. It should behave like it is flowing 'magma' when a spoon drags it to the sides of the bowl. Slacken with a teaspoon or two of lightly whipped egg white if this stage is not reached.

Fill a piping bag with a 2-3mm/1/8in nozzle with the macaroon mixture. Line a baking tray with parchment paper.

Pipe 3cm/1¼in wide circles of mixture onto the parchment, set 3cm/1¼in apart.

Tap the tray underneath two or three times to release trapped air in the macaroons and set aside until they are dry to the touch (at least 15 minutes).

Bake for 13-15 minutes, until the macaroons can be easily lifted off the parchment with a palate knife. Remove from the oven and set the macaroons to cool on a wire rack.

To make the ganache, melt the chocolate in a bowl set over a pan of simmering water, and heat to no more than 45C/113F (use a thermometer to measure this).

Blend the blackcurrants in a food processor and sieve them. Measure out 100g/3½oz of the juice and bring it to the boil in a small pan. Add the peppermint essence and raspberry extract to the juice.

Pour the hot juice over the chocolate and stir rapidly until well combined.

Transfer the ganache to a bowl, cover with cling film and put in the fridge to cool and thicken.

Once cooled a little, transfer the ganache to a piping bag, and pipe a small amount of ganache, from the centre outwards, on one half of the macaroon shells.

Sandwich the macaroon shell with another to form a pair.

Chill the macaroons in the fridge to firm up.
Related Recipes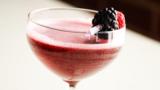 Berry nice
Gooseberry and elderflower Bakewell tart petits fours
This recipe is from…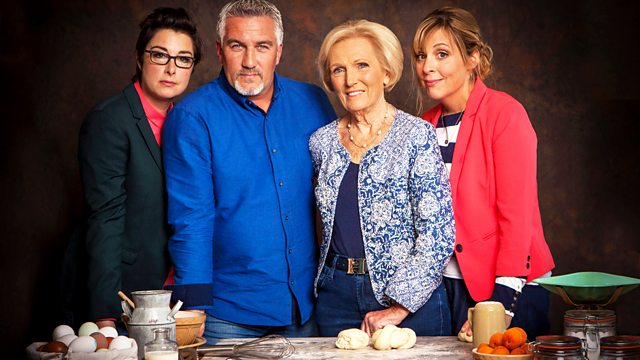 The Great British Bake Off
9. Patisserie
BBC One
Recipes from this episode