Quick recipe finder Black Forest gâteau cream horns
These cream horns take on the fabulous flavours of a Black Forest gâteau, with kirsch soaked cherries, chocolate and toasted almonds.
For this recipe you will need 12 cream horn moulds and a piping bag fitted with a small plain nozzle.

By Ian From The Great British Bake Off
Ingredients
For the chocolate rough puff pastry
For the Black Forest gâteau filling
For the chocolate ganache
Method
For the rough puff, sift the flour and cocoa into a mixing bowl and stir in the salt. Add the butter and rub it into the flour using your fingertips (you should have small flakes of butter throughout). Mix in 160ml/5½fl oz water and gently knead together. Bring the dough together and shape into a rectangle. Wrap in cling film and chill for 20 minutes.

On a lightly floured work surface, roll out the chilled pastry to a rectangle about 60cm/24in long. With the short edge facing you, fold the top third down and the bottom third up. Turn the pastry by 90 degrees (known as a quarter turn) and roll out into a rectangle as before. Repeat the folding process, wrap in cling film and chill again.

To make the Black Forest gâteau filling, whip the double cream until stiff peaks form when the whisk is removed. Mix in the chopped cherries, syrup, kirsch and almond extract. Stir through then sift in the icing sugar and mix until combined.

Preheat the oven to 220C/200C Fan/Gas 7.

Roll out the pastry until it is 3-4mm thick. Cut into long strips about 1cm/½in wide. Wrap each strip around a horn mould starting at the tip and working upwards, with the pastry overlapping slightly. Brush with beaten egg, dust with icing sugar and place on a baking tray seam-side down. Bake for about 15-20 minutes until the pastry is crisp and darkened slightly.

Once the horns are cooked, set aside cool for a couple of minutes then remove from horn moulds and allow to cool completely on a wire rack.

For the chocolate ganache, heat the cream, butter and chocolate in a pan. Remove the pan from the heat and whisk the mixture until smooth and thickened. Leave to cool slightly then spoon into a piping bag fitted with a small plain nozzle.

Stand the horns in mugs to keep them upright and then pipe fine lines of the chocolate ganache inside the horns reaching as far as possible.

Fill the horns with the Black Forest gâteau filling. Top with a cherry and a few almond flakes. Pipe a thin line of chocolate along the top rim of the pastry.
Related Recipes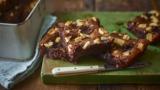 Dark and white chocolate cherry brownies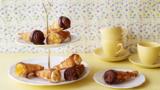 Mocha and tutti frutti cream horns
This recipe is from…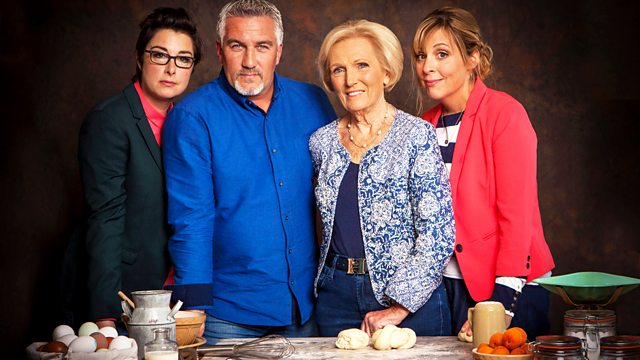 The Great British Bake Off
8. Patisserie
BBC One
Recipes from this episode