Quick recipe finder Black bean and brown rice bowl with poached eggs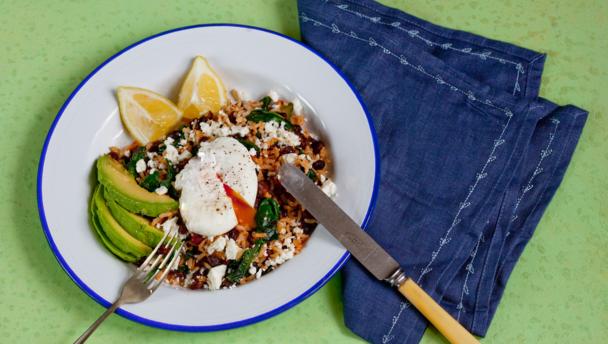 The simple addition of poached eggs takes this dish from zero to hero in under an hour. You can even use leftover rice.
Ingredients
Method
Bring a saucepan of water to the boil, add the rice and simmer for 30-40 minutes, until tender. Drain and set aside.

Place a little olive oil in a small pan, add the black beans and warm through over a low to medium heat. Stir through the smoked paprika.

Meanwhile, bring another pan of water to the boil, reduce to a simmer and add the white wine vinegar. Gently crack the eggs in one at a time, as close to the water as possible, and poach on a low simmer for 3 minutes.

While the eggs are cooking, add the spinach to the beans and wilt for 2 minutes then season with salt and pepper.

Place the cooked rice in a large bowl, add the spinach and black beans and mix to combine. Spoon the mixture into two serving bowls and top with the poached eggs, slices of avocado and crumbles of feta. Add lemon juice, salt and pepper to taste.
Related Recipes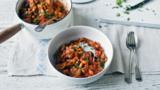 Southern-style pork and beans