Quick recipe finder Biker's cherry pecan brownies
A fantastic, gooey brownie with dark and white chocolate chunks, crunchy nuts and tangy sour cherries.

By The Hairy Bikers From Hairy Bikers' Best of British
Ingredients
Method
Preheat the oven to 190C/170C (fan)/Gas 5. Lightly butter a 20x30cm/8x12in rectangle brownie or tray bake tin and line the base and sides with a large sheet of baking parchment.

Put the butter in a medium saucepan and place over a very low heat until only just melted. Remove the butter from the heat and stir in the sugars until well combined. Whisk the eggs in a large bowl until smooth and slowly pour the butter and sugar mixture on top, stirring constantly until well combined.

Put the flour and cocoa powder in a sieve and sift on top of the egg and butter mixture. Beat hard with a wooden spoon until smooth. Leave to cool for 10 minutes. (This will prevent the chocolate chunks melting too quickly when they are added to the batter.)

Put all the chocolate on a board and cut into chunky pieces with a large knife. You want the chunks to be around 1.5cm/¾in. Break the pecan nuts or walnuts in half. Stir the chocolate pieces, cherries and nuts into the cake batter. Pour into the prepared tin and spread to all the corners with a rubber spatula or the back of a spoon.

Bake the brownie in the centre of the oven for 25-30 minutes, or until the mixture is crusty on the surface and lightly cooked inside. Do not allow it to overcook as the cake will become spongy rather than gooey in the centre.

Remove from the oven and leave to cool for 5-10 minutes. Take out of the tin and transfer to a board. Cut into squares or rectangles to serve warm or leave to cool completely if serving cold. This brownie should keep well for 3-4 days if well wrapped with foil – but we doubt it will last that long!
Related Recipes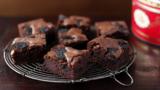 Cookies and cream fudge brownies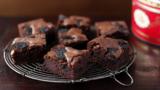 Cookies and cream fudge brownies
This recipe is from…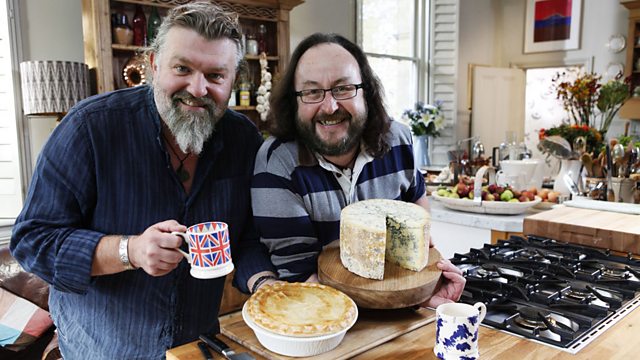 Hairy Bikers' Best of British
14. Atlantic
BBC Two
Recipes from this episode