Quick recipe finder Beer-battered scampi with tartare sauce
Meaty langoustine tails covered in a super-light and crispy batter with homemade tartare sauce.

By The Hairy Bikers From Hairy Bikers' Best of British
Ingredients
For the batter
For the sauce
Method
For the tartare sauce, whisk the egg yolks, vinegar, mustard, sugar and salt in a bowl with a large metal whisk until well combined. Gradually add the oil, a few drops at a time, whisking until the mayonnaise is smooth and very thick.

Stir in the capers, gherkins, parsley, tarragon and plenty of freshly ground black pepper. Cover the surface of the sauce with clingfilm and set aside for 20 minutes.

For the batter, mix the cornflour, plain flour and salt together in a large bowl. Make a well in the centre and stir in two-thirds of the ale. Beat with a large metal whisk to make a smooth batter. Gently whisk in the remaining ale and the vinegar. Set aside.

Fill a deep-fat fryer or a large, deep, heavy-bottomed pan two-thirds full with vegetable oil. Heat the oil to 190C/375F (use a probe thermometer to check the temperature if you're not using a deep-fat fryer). (CAUTION: Hot oil can be dangerous. Don't leave unattended)

For the scampi, put four tablespoons of flour in a large, plastic food bag and season with salt. Add the scampi tails, one at a time, and shake to coat in the seasoned flour.

Stir the batter and then dip one piece of floured scampi into the batter until thoroughly coated. Remove with tongs and gently place it in the hot oil. Repeat the process with a further 3-4 pieces of scampi and add to the pan. Cook for 3-4 minutes until golden-brown and crisp.

Remove the scampi and drain on kitchen paper. Keep warm. Bring the oil back to temperature, and cook the remaining tails in 2-3 more batches.

Spoon the sauce into four small dishes – ramekins are good – and put on four warmed plates. Divide the scampi amongst them, add lemon wedges for squeezing and serve.
Related Recipes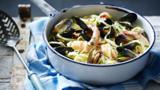 Linguine with prawns and mussels
A medley of shellfish with baby vegetables
This recipe is from…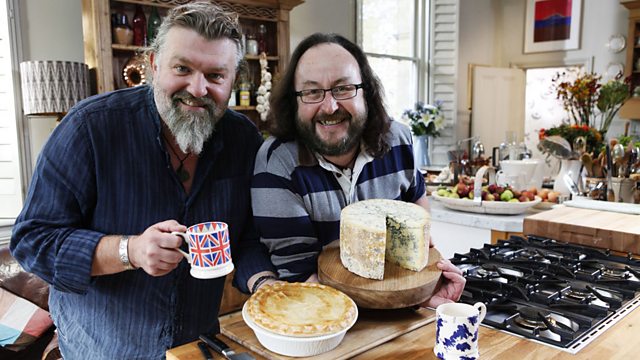 Hairy Bikers' Best of British
1. Down the Local
BBC Two
Recipes from this episode