Quick recipe finder Beef with fritto misto and chilli sauce
Thin strips of steak in a spicy dressing with delicious deep-fried vegetables.

By Theo Randall From Saturday Kitchen Best Bites
Ingredients
For the beef and chilli sauce
For the fritto misto
Method
For the beef and chilli sauce, heat a griddle pan until very hot.

Season the steaks with salt, freshly ground black pepper and the chopped rosemary.

Brush with two tablespoons of the olive oil and fry for 2-3 minutes on each side (for medium), then remove from the pan and set aside to rest for 10 minutes.

Mix the red chilli, parsley, garlic, vinegar and remaining tablespoon of olive oil together in a bowl.

Slice the steaks and spoon over the chilli sauce.

For the fritto misto, heat the oil in a deep-fat fryer to 180C/350F. Do not leave the deep-fat fryer unattended.

Place the flour into a large bowl, make a well in the centre and pour in the olive oil. Slowly whisk in the warm water until the batter is the consistency of runny honey. (You may not need all the water.)

Whisk the egg white in a separate bowl until soft peaks form when the whisk is removed. Fold the egg white into the batter.

Add the prepared vegetables to a bowl along with a ladleful of batter and mix until well combined.

Cook the vegetables in the deep-fat fryer for 2-3 minutes, or until crisp. Remove from the fryer with a slotted spoon, set aside to drain on kitchen paper and sprinkle with salt. (You may need to cook the vegetables in batches.)

To serve, arrange the beef on serving plates and place the fritto misto alongside.
Related Recipes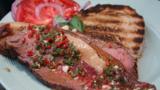 Barbecued sirloin with chimichurri sauce
This recipe is from…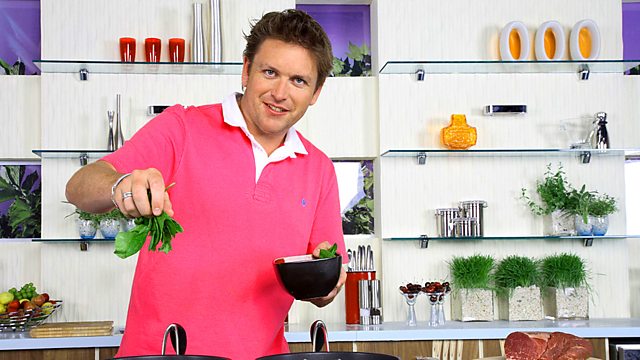 Saturday Kitchen Best Bites
Episode 166
BBC One
Recipes from this episode