Quick recipe finder Beef stew with fluffy dumplings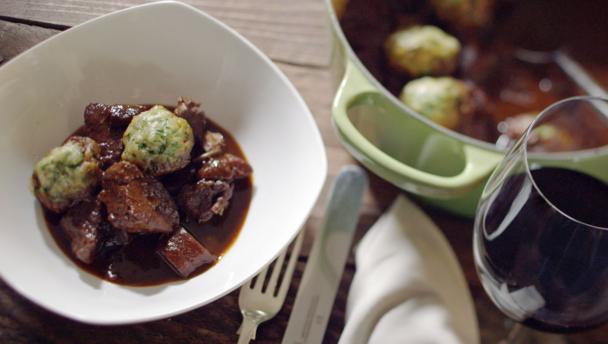 This is the ultimate cold-weather comforter that will stick to your ribs after a hearty wintry walk.

By James Martin From Home Comforts at Christmas
Ingredients
For the stew
For the dumplings
Method
Dredge the beef in the flour until coated.

Heat half of the vegetable oil in a large, lidded casserole dish over a high heat. Fry the beef, in batches, until browned on all sides, about 3-4 minutes. Remove and set aside.

Add the onions, carrots and celery to the casserole and fry for 2-3 minutes. Add the tomato purée, stir well, then cook for a further 1-2 minutes.

Pour in the red wine, bring it to the boil, then reduce the heat until the mixture is simmering and simmer until it has reduced in volume by half. Add the beef stock and return the mixture to a simmer. Return the beef to the casserole and stir well.

Tie the herbs together as a bouquet garni using cooking string and add it to the casserole. Finally, stir in the garlic.

Cover the stew with the lid and simmer gently for 1½ hours, or until the beef is really tender.

For the dumplings, in a bowl, mix together the flour, baking powder, suet, chopped parsley and a pinch of salt, then gradually add 3-5 tablespoons water, mixing as you do so, until the mixture comes together as a slightly sticky dough (you might not need to use all of the water).

Turn out the dough onto a lightly floured work surface and roll into small balls, each half the size of a golf ball. Set aside until the stew is ready.

Remove the bouquet garni from the stew, season, to taste, with salt and freshly ground black pepper, then stir in the butter and redcurrant jelly.

Top the stew with the dumplings, cover the casserole with the lid, then return to the oven for 10-15 minutes, or until the dumplings have puffed up and are cooked through. Serve in bowls.
Related Recipes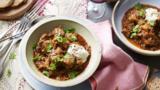 Viennese gulasch
Pot-roasted beef with red wine, prunes and bacon (pašticada)
This recipe is from…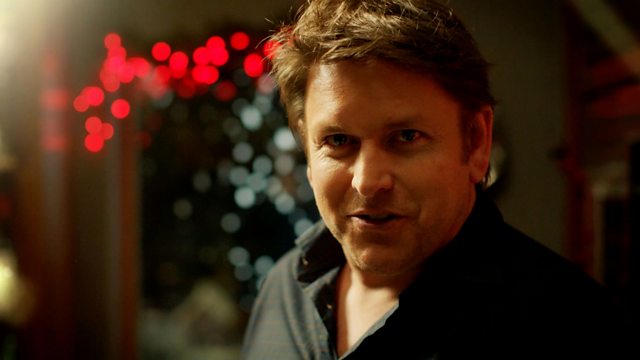 Home Comforts at Christmas
4. A Taste of Christmas Past
BBC One
Recipes from this episode