Quick recipe finder Beef fillet with potato rosti and Madeira sauce
Thick juicy, beef fillets are served with wild mushrooms, spinach, potato cakes and Madeira sauce. The crème fraîche is a little secret to keep the rosti moist.

By James Martin From Saturday Kitchen
Ingredients
For the rosti
For the shallots
For the sauce
For the beef
For the vegetables
Method
Preheat the oven to 200C/400F/Gas 6.

For the rosti, wrap the grated potatoes in a clean tea towel and squeeze out as much liquid as you can.

Put the grated potato in a bowl with the crème fraîche and egg yolk. Season with salt and pepper. Stir to combine.

Heat the butter in a frying pan over a medium heat and place two 7.5cm/3in chefs' rings into the pan. (If you don't have chef's rings just shape the potato mix into two patties.) Spoon the potato mixture into the rings, press down well using a spoon, and cook for 3-4 minutes, or until golden-brown, then remove the rings (if using).

Turn the rosti over, press the mixture down and cook for 3-4 minutes on the other side, or until cooked through.

For the shallot, dot knobs of butter in a roasting tin. Sit the shallot halves on the butter, cut-side down, and put the thyme sprig on top. Roast in the preheated oven for 5-10 minutes until soft.

For the sauce, heat a frying pan and add 55g/2oz butter. Once hot add the shallot and garlic and cook for 2-3 minutes. Add the Madeira and stock. Cook until the volume of liquid has reduced by half and you have a thick sauce (homemade stock, or stock bought as liquid works best for this, rather than stock made from powder which is more watery).

Add the tarragon and stir in the rest of the butter, to give the sauce a glossy finish.

For the beef, heat a frying pan and add the rapeseed oil. Once hot add the fillet steak and cook on each side for 3-4 minutes.

When the beef is almost done, add the mushrooms to the pan. Baste the beef with the pan juices while cooking. When the beef is cooked to your liking remove it from the pan and set aside to rest.

Add the parsley to the mushrooms and cook for another couple of minutes until the mushrooms are cooked.

In a separate pan, add the spinach and two tablespoons of water. Cook until wilted.

To serve, place a rosti in the centre of each plate and top with the mushrooms and spinach. Place the beef on top and spoon over the sauce.
Related Recipes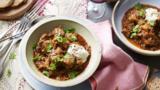 Viennese gulasch
This recipe is from…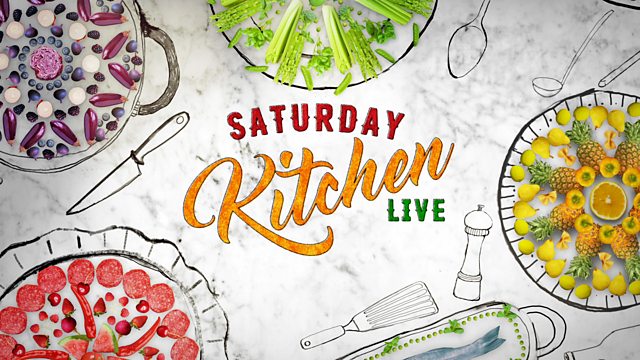 Saturday Kitchen
20/09/2014
BBC One
Recipes from this episode