Quick recipe finder Beef bourguignon with bubble and squeak

By Mike Robinson From Saturday Kitchen
Ingredients
For the beef bourguignon
For the bubble and squeak
Method
Preheat the oven to 150C/300F/Gas2

Season the shin of beef with salt and pepper.

Heat half the duck fat in a casserole dish.

Add in the beef and fry until well browned. Remove the beef, set aside and add in the rest of the duck fat to the casserole.

Add bacon, garlic, shallots and onions, fry until brown.

Stir in tomato purée, return beef to casserole dish, and add the bouquet garni.

Add the mushrooms and pour in enough wine to cover beef. Cover and simmer.

Move the beef mixture in the casserole dish to the oven and cook for three hours.

When beef is tender, using a slotted spoon remove beef and shallots from mixture and place in a serving bowl. Keep warm.

On the hob bring the sauce to a simmer. Mix together the flour and butter and whisk this into the simmering mixture a little at a time.

Pour the sauce over the beef and serve.

For the bubble and squeak: Boil the cabbage and onion in salted water for 20 minutes, then drain and cool.

Work the butter into the potato, making sure it stays fairly dry in texture.

Mix in the cabbage, onion and peas and season well.

Form the bubble into cakes and fry in oil for ten minutes on each side. The outside should be golden and the cakes should stay firm.
Related Recipes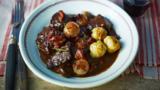 Boeuf bourguignon with baguette dumplings