Quick recipe finder Beef and mango Jamaican stew

By Simon Rimmer From Something for the Weekend
Ingredients
1 tsp freshly grated nutmeg
1 tbsp curry powder
1 tbsp light soy sauce
1 Scotch bonnet chilli, finely chopped
salt and freshly ground black pepper
450g/1lb braising steak, cut into chunks
2 tbsp vegetable oil
1 onion, peeled, thinly sliced
1 green pepper, seeds removed, sliced
1 garlic clove, peeled, crushed
1 tbsp tomato purée
4 tomatoes, chopped
1 baking potato, peeled and cut into large chunks
50ml/2fl oz rum
300ml/10½fl oz beef stock
2 just-ripe mangoes, peeled, stones removed, chopped
1 tbsp chopped fresh thyme
long grain rice, cooked according to packet instructions, drained, to serve
Method
Place the nutmeg, curry powder, soy sauce, chilli and salt and freshly ground black pepper into a bowl and mix well. Add the chunks of beef and mix well to coat evenly in the mixture.

Heat the vegetable oil in a pan until smoking, then fry the meat for 1-2 minutes on all sides, or until golden-brown all over. Remove the beef from the pan and set aside.

Add the onion, pepper and garlic to the pan and fry for for 3-4 minutes, or until softened, then stir in the tomato purée and chopped tomatoes and cook for 2-3 more minutes.

Add the meat back into the pan along with the potato chunks, rum and stock, then bring to boil. Reduce to a simmer and cook for 1 hour to 1 hour 30 minutes, or until the beef is tender.

Stir in the mangoes and thyme and cook for a further 4-5 minutes to heat through.

Serve the Jamaican stew alongside cooked long grain rice, and a rum cocktail if desired.
Related Recipes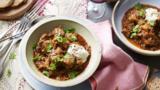 Viennese gulasch
This recipe is from…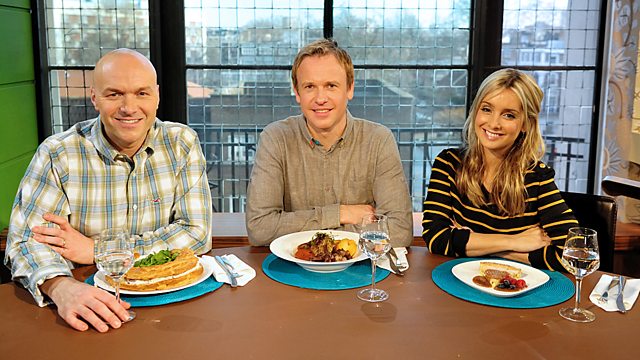 Something for the Weekend
30/08/2009
BBC Two
Recipes from this episode