Quick recipe finder BBQ chicken with coleslaw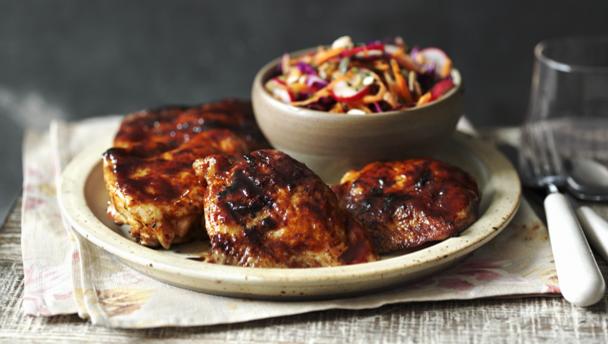 This healthy recipe proves that fried chicken and coleslaw doesn't have to be full of fat.
This meal provides 273 kcal per portion.

By Tim Maddams
Ingredients
For the coleslaw
Method
To make the glaze for the chicken, combine the vinegar with 100ml/3½fl oz water in a saucepan. Add the sugar, smoked paprika, mustard and soy sauce. Stir to combine then bring to the boil. Reduce the heat and simmer for 10 minutes, or until thickened. Remove from the heat and season to taste with salt and pepper.

Meanwhile, add the ingredients for the coleslaw to a large bowl, toss to combine and season to taste.

Heat a griddle pan over a high heat until smoking hot. Open the chicken thighs out and season with salt and pepper. Place the chicken skin-side down on the griddle and fry for 3-4 minutes.

Brush the chicken with a little glaze then turn and cook for a further 3-4 minutes, brushing occasionally with the glaze as you cook. Turn off the heat and rest for five minutes.

Slice thickly and serve with the coleslaw. Drizzle with any sticky cooking juices before serving.
Recipe Tips
This dish would also work really well on the barbecue. Brush the chicken with the sauce as it cooks, making sure you turn the meat frequently to prevent it from burning.
Related Recipes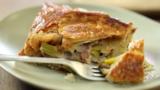 Chicken and leek pie