Quick recipe finder Barbary duck with cherries and chocolate ganache

By Jason Atherton From Saturday Kitchen Best Bites
Ingredients
For the chocolate ganache
400ml/14fl oz cabernet sauvignon vinegar
125g/4½ oz plain chocolate
110g/4oz unsalted butter, softened
For the duck
Method
For the chocolate ganache, place the vinegar into a non-reactive saucepan and bring to the boil. Cook until the volume of liquid has reduced to 110ml/4fl oz.

Place the chocolate into a bowl over a pan of simmering water (do not let the water touch the bottom of the bowl). Heat until melted.

Remove the bowl from the heat, then gently stir in the butter and the reduced vinegar. Mix until well combined. Place in the fridge until firm, about two hours.

For the duck, preheat the oven to 150C/300F/Gas 2. Remove the legs and breasts from the duck. (You will not need the carcass for this recipe; save to make stock for another dish.)

Heat a large ovenproof frying pan until just warm, then add the duck legs, skin-side down, and cook for one minute until just browned. Add the duck fat, one clove of garlic and half of the thyme.

Cook in the preheated oven for 1-1½ hours, then carefully remove the duck legs from the fat and keep warm.

Meanwhile, heat another frying pan until hot. Add the olive oil, shallots and the remaining garlic and thyme. Cook for 2-3 minutes, or until softened, then add the sugar and cook for a further minute, stirring until the sugar has dissolved. Add the port and cook until reduced to a sticky glaze. Add the chicken stock and cook until the volume is reduced by half (the sauce should be thick enough to coat the back of a spoon).

Pass the sauce through a sieve back into the pan and season, to taste, with salt and freshly ground black pepper. Add the cherries and cook for one minute.

Remove the skin from the duck breast and add the skin to the pan with the duck legs and fat. Return to the oven and cook until soft, 2-3 minutes. Scrape the fat from the cooked duck skin. Place onto a baking tray, then weigh down with another heavy baking tray to keep it flat. Return to the oven and cook for 4-5 minutes, or until crisp.

Season the duck breast with salt and freshly ground black pepper. Heat a frying pan until hot, add a little of the duck fat and add the duck breast. Cook on each side for 2-3 minutes or until cooked to your liking. Remove from the pan and leave to rest for 2-3 minutes. Keep warm.

To serve, place a duck leg into the centre of each of four plates. Carve the breasts into three pieces and place around the leg.

Place a piece of the crisp duck skin onto the pieces of duck breast. Using two spoons, form the chocolate ganache into oval-shaped quenelles and place one on top of each piece of crisp duck skin. Spoon the cherries and sauce around the duck, scatter over the lamb's cress and serve.
Related Recipes
Peppered duck breast with wild mushrooms and cream
This recipe is from…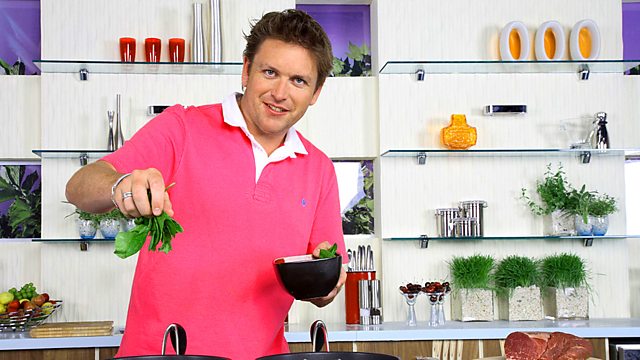 Saturday Kitchen Best Bites
185. Saturday Kitchen Best Bites
BBC One
Recipes from this episode