Quick recipe finder Baklava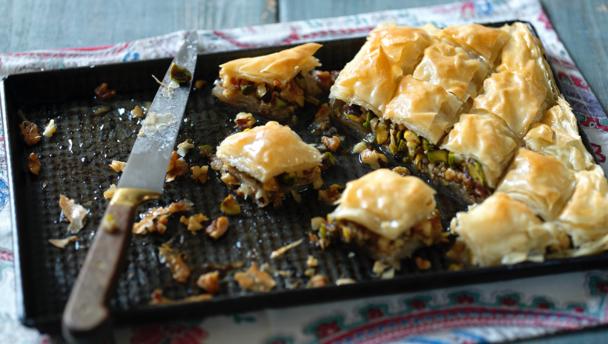 Sticky sweet, flaky and nutty, a small slice of baklava goes a long way, especially with a tiny cup of strong coffee. Serve after a mezze feast.
By Roberta Sawalha / Julia Sawalha From A Taste of My Life
Ingredients
For the syrup
300g/10½fl oz granulated sugar
250ml/9fl oz water
1 tbsp lemon juice
1 tbsp orange blossom water
Method
Preheat the oven to 180C/350F/Gas 4.

Grease a 17cm x 28cm (11in x 7in) baking tray with butter.

Melt the remaining butter in a saucepan over low heat or in a microwave.

Lay 10 sheets of filo pastry, one at a time, into the tray, brushing each sheet with butter before adding the next.

In a clean bowl, mix together the nuts, sugar and cardamom and spread the mixture over the pastry in the tray.

Layer up the remaining sheets on top of the nut mixture, brushing each sheet with butter, as before.

Using a sharp knife, cut a criss-cross pattern into the top layers of the pastry.

Place baklava in the preheated oven for approximately 20 minutes, then decrease the oven temperature to 150C/300F/Gas 2 and cook for an additional half hour to 40 minutes, or until the pastry is slightly puffed and golden on top. Do not allow the top to burn. Remove and allow to cool slightly.

For the syrup, heat the sugar, water, lemon juice and orange blossom water in a small, heavy-bottomed saucepan and cook over a medium heat until the sugar has melted and a syrup is formed. (This will take about 20 minutes or so.)

Pour the syrup into the slits in the baklava and leave to cool. Cut into small diamond-shaped pieces and serve.
Related Recipes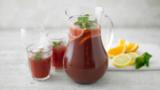 Sangria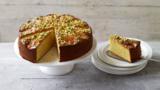 Apricot almond cake with rosewater and cardamom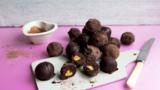 Easter simnel truffles