Quick recipe finder Baked sea bass with braised baby purple artichokes, asparagus and a white wine foam

By James Martin From Saturday Kitchen Best Bites
Ingredients
For the baked sea bass
For the braised baby purple artichokes and asparagus
For the white wine foam
Method
For the baked sea bass, preheat the oven to 200C/400F/Gas 6.

Grease two sheets of foil with the olive oil and place two of the sea bass fillets on top of each sheet. Season with salt and pepper and lay the basil leaves on the fish. Fold the foil over to make two parcels and seal.

Place in the oven to bake for 6-8 minutes.

Meanwhile, for the baby purple artichokes and asparagus, place the peeled artichokes, heads facing downwards, into a pan. Add the olive oil, butter and white wine. Cover the pan with a lid.

Heat the mixture over a medium heat and then cook the artichokes for 15 minutes, or until a sharp knife can be smoothly inserted into the centre.

When the artichokes are cooked, remove them from the pan using a slotted spoon and cut them in half. Put half of the artichokes in a blender with the lemon juice and cream and blend to a smooth purée. Set aside.

Cook the asparagus in boiling salted water for 1-2 minutes. Drain and cut in half, place in a bowl with olive oil and season with salt and freshly ground black pepper.

Heat a griddle pan, add the asparagus and reserved artichokes halves and griddle for 1-2 minutes on each side, or until charred marks have appeared on the vegetables.

For the white wine foam, heat the butter in a frying pan and fry the shallots for 2-3 minutes, or until softened. Add the white wine and simmer for 2-3 minutes, or until the volume of white wine has reduced by one-third.

Add the fish stock to the pan and continue to cook until the liquid has reduced by a half. Strain the mixture through a sieve into a saucepan and add the cream. Season with salt and freshly ground black pepper. Blend using a hand-blender to produce a foam.

Serve a smear of artichoke purée in the centre of each serving plate. Top with the griddled artichokes and fish. Arrange the asparagus around the fish and top with a spoonful of the white wine foam.
This recipe is from…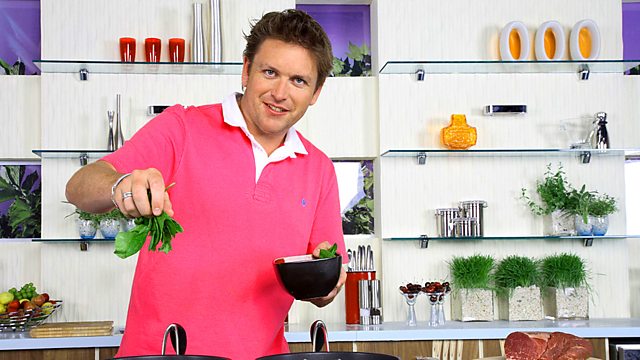 Saturday Kitchen Best Bites
180. Saturday Kitchen Best Bites
BBC One
Recipes from this episode