Quick recipe finder Baked potato with leeks

By Sophie Dahl From A Taste of My Life
Ingredients
Method
Preheat the oven to 200C/400F/Gas 6.

Rub the potato with the olive oil, place onto a baking tray and bake in the oven for 45-60 minutes, or until the potato is cooked through.

While the potato is baking, cook the sliced leek in a pan of boiling salted water for 3-4 minutes, or until tender. Drain and set aside.

In a saucepan, gently warm the milk through. Melt the butter in a saucepan, add the flour and stir until it forms a smooth paste. Gradually whisk in the warm milk, a little at a time, until the milk is incorporated and the mixture is smooth and free of lumps. Bring to boil, reduce the heat and allow to simmer, stirring frequently, for 4-5 minutes, or until the sauce thickens.

Add the grated cheese, mustard, nutmeg, salt and freshly ground black pepper. Stir well and cook for one minute, then remove from the heat and keep warm until the potato is cooked.

Halve the potato and scoop out the flesh, leaving the potato skin intact.

Mash the potato flesh with the blanched leeks and spoon the mixture back into the potato skins. Pour the warm cheese sauce over the potato and serve.
Related Recipes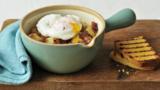 Corned beef hash with poached eggs