Quick recipe finder Baked pork spare rib chops with pears, potatoes, onions and Roquefort butter

By Diana Henry From Saturday Kitchen Best Bites
Ingredients
For the Roquefort butter
For the pork spare rib chops
For the salad
Method
For the Roquefort butter, place the butter and Roquefort into a bowl and mash together with a wooden spoon. Chill in the freezer for ten minutes, then spoon onto a sheet of clingfilm and roll up into a sausage shape, twisting up the ends to seal. Place into the fridge to chill for one hour, or until firm.

Preheat the oven to 200C/390F/Gas 6.

For the pork spare rib chops, place the potato slices into a roasting tin with the thyme and drizzle over half the olive oil. Season well with salt and freshly ground black pepper. Toss well to coat, then place the onions, pears (cut-side down) and pork chops on top.

Drizzle over the remaining oil, season again with salt and freshly ground black pepper, then toss lightly to coat in the oil.

Place into the oven to cook for 15 minutes, or until the pork is lightly golden. Reduce the oven heat to 190C/375F/Gas 5, then remove the tin from the oven.

Turn the chops over and turn over the pears so that they are cut-side up. Sprinkle the pears with the brown sugar, then return the tin to the oven. Roast for another 30-40 minutes, or until the pork is golden-brown and cooked through, the pears caramelised and the potatoes tender.

For the salad, place the watercress, chicory and walnuts into a bowl. In a smaller bowl, whisk together the vinegar, cassis and oils, then season with salt and freshly ground black pepper. Drizzle the dressing over the salad, then toss well to coat.

To serve, spoon the pork chops, potatoes and pears onto four plates and place the salad alongside. Slice a knob of Roquefort butter and place over the top of the pork to melt.
This recipe is from…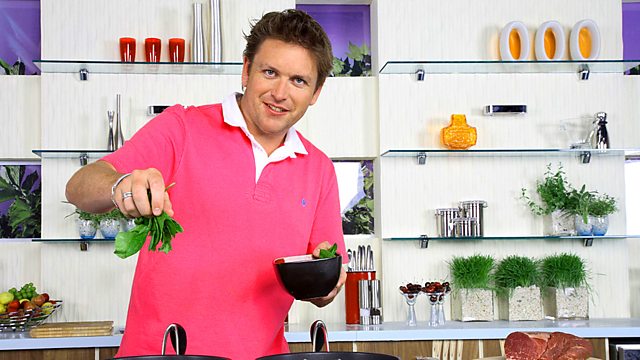 Saturday Kitchen Best Bites
Episode 155
BBC One
Recipes from this episode