Quick recipe finder Baked eggs in avocado with pitta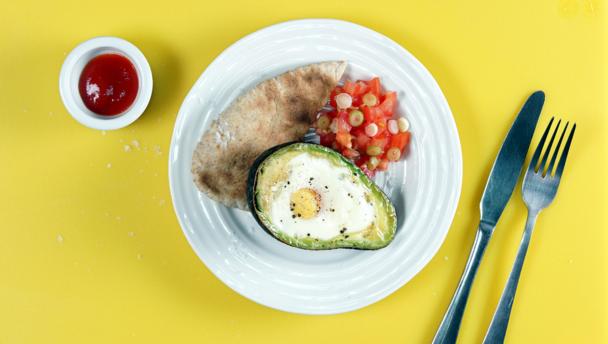 Impress your friends or brunch date with baked eggs in avocado. They take no time at all and are super nutritious and delicious!
Each serving provides 688kcal, 26g protein, 47g carbohydrate (of which 8g sugars), 41g fat (of which 9g saturates), 10g and 1.3g salt.
Ingredients
Method
Preheat the oven to 220C/200C Fan/Gas 7.

Slice the avocado in half lengthwise and twist to separate the halves. Chop a knife into the avocado stone (like an axe) and lever it out of the avocado. If the stone is small, you may need a teaspoon to scoop out a bit of a bigger hole. A tablespoon-size hole works best.

Scrunch up some tin foil to hold the avocado halves in place on a baking tray, or wedge them into a small tin so they don't move.

Crack one of the eggs into a small bowl, then carefully pour it into one half of the avocado and season with salt and pepper. Repeat with the other half, then bake for 12-15 minutes until the egg white is cooked through.

Serve with the tomato, spring onions and toasted pitta on the side.
Recipe Tips
Spice it up – squeeze or dribble a little chilli sauce into each half of the avocado.
Related Recipes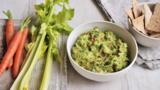 Real guacamole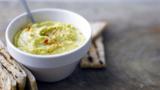 Avocado hummus