Quick recipe finder Baguettes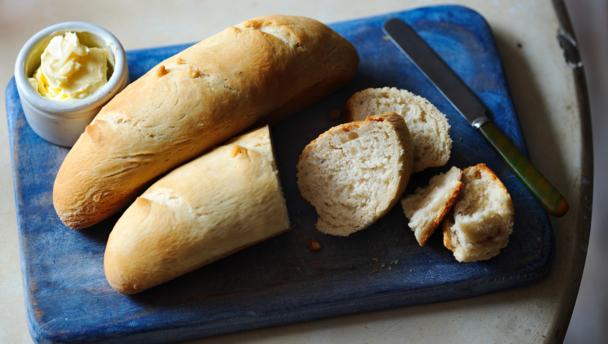 Serve these mini-baguettes with really ripe brie, camembert or vacherin cheese for a simple yet decadent lunch.

By Paul Hollywood From Paul Hollywood's Bread
Ingredients
Method
Place the flour, salt, yeast, olive oil and most of the water in a food mixer with a dough hook attached, taking care not to let the yeast touch the salt until you begin mixing.

Start mixing on a slow speed, gradually adding the rest of the water until you have a smooth dough. This should take about five minutes.

Tip the dough into an oiled bowl, cover and leave the dough to prove for two hours.

Tip the dough out onto an oiled surface. Dust your hands in a little flour and divide the dough in two.

Knock back the dough and stretch and fold, and then roll the dough into a baguette shape.

Place on a baguette tray or a large baking tray, cover and leave to prove until it has doubled in size.

Heat a roasting dish in the bottom of the oven and pour in some water to create some steam (this will help form the crust). Preheat the oven to 220C/425F/Gas 7 in a non-fan oven.

Just before baking, slash the top of each baguette three times.

Bake the baguettes for 30 minutes. Then drop the temperature to 200C/400G/Gas 6 and cook for 10 minutes. The baked baguettes should be golden-brown and have a slight sheen to them.
Recipe Tips
Try these baguettes with flavoured butters: either slice and spread the bread with the flavoured butter, wrap in foil and bake for 20 minutes at 180C/350F/Gas 4 or slice the bread, melt the flavoured butter in a frying pan with a splash of olive oil and fry the bread until crisp. Try watercress and horseradish butter (125g/4½oz softened butter, 1 heaped tsp fresh grated horseradish, 1 tbsp finely chopped watercress leaves and pinch salt mixed together) or lime, chilli and coriander butter (125g/4½oz softened butter, 1 tsp dried crushed chillies, zest of 1 large lime and1 tbsp finely chopped coriander leaves mixed together).
How-to videos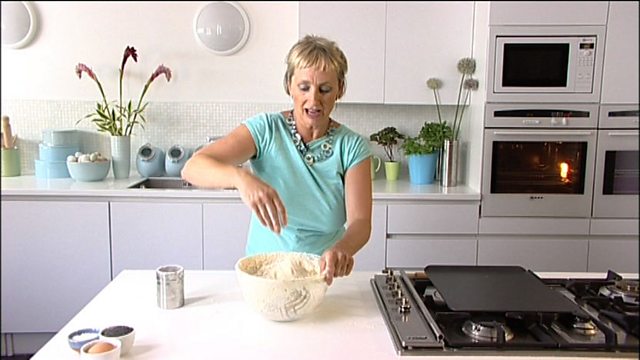 Related Recipes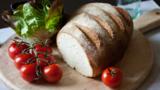 Paul Hollywood's bloomer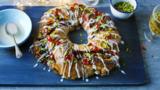 Mincemeat and marzipan couronne ('crown')
This recipe is from…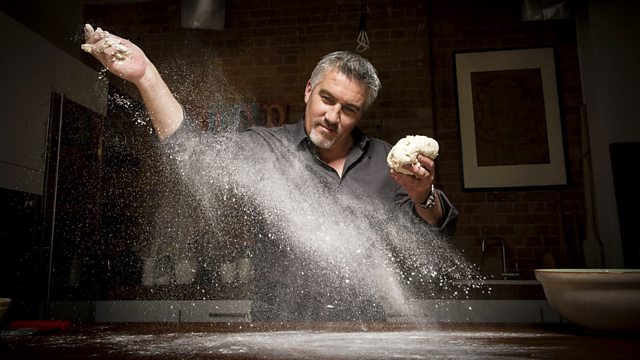 Paul Hollywood's Bread
3. Continental Breads
BBC Two
Recipes from this episode