Quick recipe finder Bacon and chilli cornbread

By Antony Worrall Thompson From Saturday Brunch
Ingredients
Method
Preheat the oven to 200C/390F/Gas 6. Lightly butter a cake tin.

Heat the oil in a frying pan and fry the bacon until it is crisp and releases its fat. Add the spring onions and cook for five minutes, then add the corn kernels and chilli flakes and stir to combine. Allow to cool slightly.

Combine the polenta, flour, sugar, baking powder, baking soda, and salt. Add the bacon mixture, the buttermilk, eggs, maple syrup, black pepper and half the melted butter. Mix well.

Pour the batter into the prepared cake tin and brush the top with the remaining melted butter. Bake until golden (about 20-25 minutes). Serve warm.
Related Recipes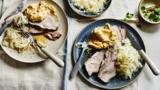 Salt pork belly with split pea purée and sauerkraut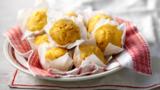 Cornbread