Quick recipe finder Baby bruschettas with poached pears, gorgonzola and port syrup
It is really important that the pears are firm for this recipe, or they will fall apart when you poach them. Poaching the pears can be done the night before.This also allows the syrup to cool and thicken.

By Merrilees Parker From Saturday Kitchen
Ingredients
Method
Preheat the grill to hot.

Halve and core the pears, then cut each pear into 12 small wedges. Place in a heavy-based saucepan with the honey, port and wine. Cook for 10-15 minutes or until the pears are tender to the point of a knife but not soft.

Drain the liquid into a small pan and allow the pear wedges to drain thoroughly.

Reduce the liquid by two thirds, when it should be a syrupy consistency, this will take 8-10 minutes. Place in a small glass and allow to cool.

To make the bruschettas, brush each slice of bread with the olive oil, and then grill until the bruschettas are golden on both sides. This only takes a minute or two so keep a close eye!

Just before your guests arrive, generously spread each bruschetta with gorgonzola, top with a poached pear slice. Finally, using a teaspoon drizzle with the port syrup.
Related Recipes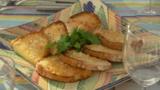 Spanish tomato bread