Quick recipe finder Autumn lamb with butter beans

By Simon Rimmer From Something for the Weekend
Ingredients
4 x 175g/6oz lamb leg steaks, fat cut at intervals (this will prevent the lamb steaks from curling as they cook)
125ml/4½fl oz extra virgin olive oil
salt and freshly ground black pepper
1 red onion, peeled, finely chopped
4 salted anchovy fillets, chopped
8 ripe tomatoes, chopped
450g/1lb canned butter beans, drained, rinsed
450g/1lb griddled artichokes, preserved in oil (available from delicatessens)
1 tbsp finely chopped fresh rosemary leaves
1 tbsp sherry vinegar
Method
Heat a griddle pan over a medium heat until hot. Rub a little of the oil all over the lamb leg steaks, using your hands, then season, to taste, with salt and freshly ground black pepper.

Add the lamb leg steaks to the hot pan and cook for 2-3 minutes on each side, or until golden-brown griddle marks appear on both sides of the steaks. Remove from the pan and set aside to rest. Keep warm.

Meanwhile, heat 1-2 tablespoons of the remaining oil in a separate frying pan over a medium heat. Add the onion and fry for 4-5 minutes, or until softened.

Add the chopped anchovy fillets and chopped tomatoes and stir to combine.

Increase the heat, then add the beans and artichokes. Continue to cook for 4-5 minutes, carefully, until the butter beans have softened and the artichokes have warmed through.

Stir in the remaining oil, rosemary and sherry vinegar until well combined.

To serve, divide the butter bean mixture equally among four serving plates. Place one lamb leg steak on top of each serving.
This recipe is from…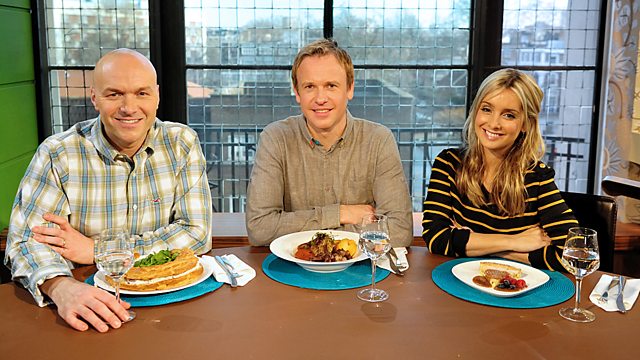 Something for the Weekend
01/11/2009
BBC Two
Recipes from this episode