Quick recipe finder Aubergine satay skewers

By Simon Rimmer From Something for the Weekend
Ingredients
For the satay sauce
Method
Soak four to eight wooden skewers in a bowl of water for 10 minutes, then shake off any excess moisture and set aside.

Thickly slice each aubergine half into half moons. Meanwhile, place the aubergine slices into a large bowl, sprinkle over the salt and drizzle over the oil. Mix well until all of the slices are coated evenly in the oil and salt. Set aside for 20 minutes.

When the aubergines have stood for 20 minutes, heat a chargrill pan over a high heat.

When the pan is hot, add the aubergine slices, in batches, and griddle for two minutes on each side, or until golden-brown griddle marks appear on both sides. Remove the aubergine slices from the pan and set aside until cool enough to handle.

Repeat the process with the remaining slices of aubergine.

Thread the chargrilled aubergine slices onto the soaked wooden skewers, arranging each half moon at a different angle to the one below it to create a spiral. Set aside.

For the satay sauce, heat 80ml/2¾fl oz of the oil in a wok over a high heat. Add the peanuts and stir-fry for 2-3 minutes, or until golden-brown.

Transfer the fried peanuts to a food processor and blend to a smooth paste.

Heat the remaining oil in a frying pan over a medium heat. Add the shallots and garlic and fry for 1-2 minutes, or until softened.

Add the chilli powder, brown sugar, soy sauce and water, stir well and bring the mixture to the boil.

Add the peanut paste and chopped red chilli and stir well to combine. Bring the mixture to a simmer, then continue to simmer for 8-10 minutes, or until thickened. Stir in the lemon juice and salt.

To serve, arrange the aubergine skewers in four tall glasses or onto four serving plates. Serve the satay sauce in dipping bowls alongside.
Related Recipes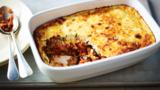 Red lentil and aubergine moussaka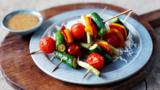 Oriental vegetable kebabs with peanut dressing
This recipe is from…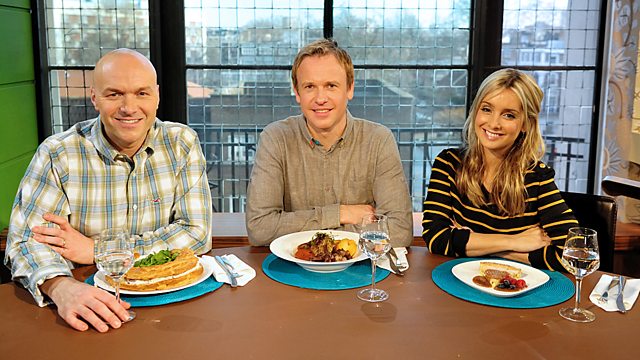 Something for the Weekend
06/09/2009
BBC Two
Recipes from this episode