Quick recipe finder Aubergine 'parmigiana' with fresh tomato (Parmigiana alla melanzane in pomodoro fresco)

By Gennaro Contaldo From Saturday Kitchen Best Bites
Ingredients
Method
Preheat the oven to 200C/400F/Gas 6.

Place the hollowed-out tomatoes onto a plate lined with kitchen paper. Add a pinch of salt to the cavity of each, then turn the tomatoes upside down and set aside for 10-15 minutes to drain of excess moisture.

Meanwhile, heat four tablespoons of the extra virgin olive oil in a pan over a high heat. Add the onion and fry for 3-4 minutes, or until softened, then add the reserved tomato pulp and half of the basil leaves and season, to taste, with salt and freshly ground black pepper. Stir well.

Reduce the heat to medium, then half-cover the pan with a lid and continue to cook the tomatoes for 18-20 minutes, or until most of the moisture has evaporated and the mixture has thickened (check and stir the mixture regularly to prevent it from burning).

Heat two more tablespoons of olive oil in a separate frying pan over a medium to high heat. While the oil is heating up, sprinkle the flour onto a plate and dredge the aubergine rounds in the flour, shaking off any excess.

When the oil is hot, dip each aubergine round into the beaten egg. Add the coated aubergine rounds to the hot oil, in batches if necessary, and fry for 3-4 minutes on each side, or until crisp and golden-brown on both sides. Remove from the pan using a slotted spoon and set aside to drain on kitchen paper. Season, to taste, with salt. Repeat the process with the remaining batches of aubergines, if necessary.

Add one fried aubergine slice to the cavity of each hollowed-out tomato, then top with a spoonful of the tomato sauce. Place a basil leaf on top of the sauce, then top with a slice of smoked mozzarella.

Repeat the layering process until the tomato cavities are full and all of the ingredients have been used up (reserve any excess basil leaves for the garnish). Replace the 'lid' of each tomato and transfer the filled tomatoes to an ovenproof dish. Season, to taste, with salt and freshly ground black pepper and drizzle over a little of the remaining olive oil.

Bake the stuffed tomatoes in the oven for 20-25 minutes, or until the tomatoes have softened and the cheese has melted.

To serve, place one stuffed tomato into the centre of each of six serving plates. Garnish with the remaining basil leaves, then drizzle over the remaining olive oil and season again with salt and freshly ground black black pepper. Serve hot or warm.
Related Recipes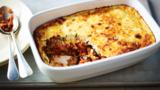 Red lentil and aubergine moussaka
This recipe is from…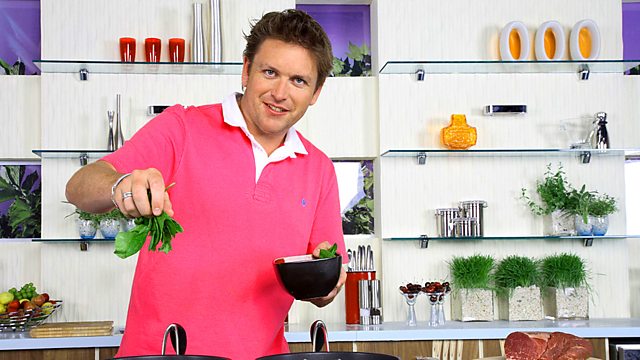 Saturday Kitchen Best Bites
Episode 154
BBC One
Recipes from this episode