Quick recipe finder Asparagus risotto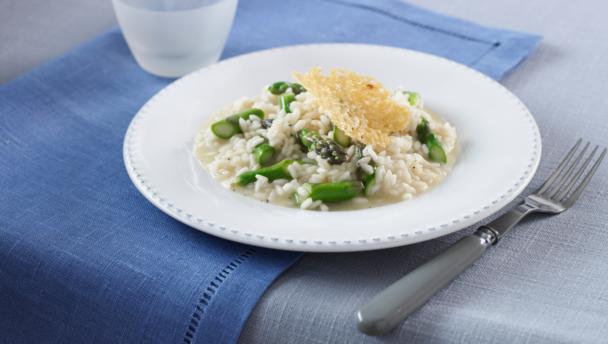 Risotto is a great way to make the most of top-notch British asparagus. Try it topped with homemade Parmesan crisps.

By Phil Vickery
Ingredients
For the risotto
For the parmesan crisps (optional)
120g/4¼oz Parmesan (or a similar vegetarian hard cheese)
Method
Cook the asparagus in boiling water for a few minutes until just tender. Drain and allow them to cool, then chop into small pieces and set aside.

For the risotto, heat the oil in a pan and gently fry the shallot and garlic until softened but not coloured. Add the rice and fry for one minute, stirring frequently, until coated in the oil. Add the wine and simmer until absorbed by the rice.

Add the hot vegetable stock a ladleful at a time, stirring between each addition to allow the liquid to be completely absorbed, until the rice is cooked and the stock has been absorbed (you may not need all the stock). Add the asparagus, butter and Parmesan, season, to taste, with salt and freshly ground black pepper and stir well.

For the Parmesan crisps, preheat the oven to 170C/150C fan/Gas 3 and line a baking tray with baking paper. Divide the cheese into six small piles leaving plenty of space between them as the Parmesan will spread. Press the piles of Parmesan down to flatten them, then transfer to the oven and bake for 6-8 minutes, until golden-brown. Remove from the oven and allow to cool and set.

To serve, divide the risotto equally among two serving dishes and top with the Parmesan crisps.
Related Recipes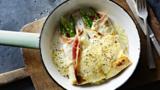 Pancakes with Parma ham and asparagus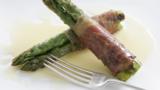 Asparagus in prosciutto with beurre blanc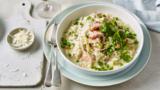 Salmon, fennel and pea risotto