Quick recipe finder Asparagus and anchovy twists
A perfect party snack that's simple to make. Asparagus and anchovy packs a lot of flavour into these decorative puff pastry canapés.

By Rachel Khoo From Spring Kitchen with Tom Kerridge
Ingredients
Method
Preheat the oven to 180C/350F/Gas 4. Line a baking tray with baking paper.

Crush the anchovies in a pestle and mortar and mix in the olive oil to make a spreadable paste.

Roll out the puff pastry into a rectangle 24x16cm/10x6in, and approximately 4mm thick.

Spread the anchovy paste over the puff pastry as evenly as you can, right to the edges. Cut into 12 strips across the width, each about 2cm/¾in wide.

Take the first strip and place the bottom of the asparagus at the bottom of the strip at a 45-degree angle. Roll it up along the pastry, wrapping the pastry as you go. Place the twist on the baking tray and repeat with the remaining asparagus tips and pastry strips. When all the twists are on the tray, use a pastry brush to brush the pastry lightly with the egg wash. Sprinkle the sesame seeds on the pastry.

Bake for 20 minutes, or until crisp and puffy.
Related Recipes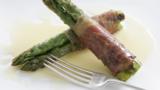 Asparagus in prosciutto with beurre blanc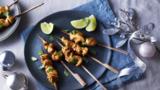 Tandoori chicken party skewers
This recipe is from…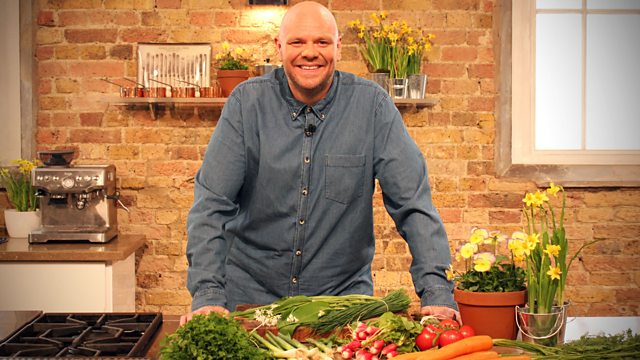 Spring Kitchen with Tom Kerridge
Episode 13
BBC One
Recipes from this episode