Quick recipe finder Asian-spiced rice with coriander-crusted lamb and rosemary oil

By Richard Phillips From Ready Steady Cook
Ingredients
For the Asian-spiced rice
For the coriander-crusted lamb
For the rosemary oil
Method
Preheat the oven to 180C/350F/Gas 4.

For the Asian-spiced rice, place the rice, turmeric and chicken stock into a saucepan and bring to the boil. Turn down the heat and simmer for five minutes. Crush the coriander seeds and cardamom seeds in a pestle and mortar and add to the rice. Continue cooking for a further 4-5 minutes, adding more water from the kettle if the rice looks too dry. When the rice is cooked, add the butter and stir in the chopped coriander.

For the coriander-crusted lamb, grind the coriander seeds and white peppercorns in a pestle and mortar and rub into the lamb. Heat the oil in a pan, add the whole garlic cloves to brown slightly, and in the same pan, cook the lamb for about two minutes on each side or until golden-brown. Drizzle the honey over, tuck the rosemary and thyme sprigs around the chop, season with salt and freshly ground black pepper and place the pan into the oven for about 10-12 minutes, or until the lamb is cooked.

For the rosemary oil, place all the ingredients into a mini-blender and process until smooth.

To serve, place a 10cm/4inch chefs' ring on a serving plate and fill with the cooked rice. Press down, remove the ring and place the coriander-crusted lamb chop on top. Arrange the roasted garlic cloves around the side, and drizzle the rosemary oil in a circle around the edge.
This recipe is from…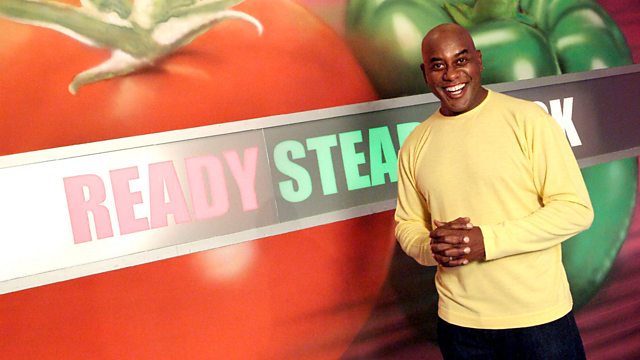 Ready Steady Cook
Episode 15
BBC Two
Recipes from this episode