Quick recipe finder Aromatic Thai green chicken and autumn vegetable curry
Thai-flavoured chicken thighs and chunky vegetables, served with rice and lightly fried flatbread.

By James Tanner From Chefs: Put Your Menu Where Your Mouth Is
Ingredients
For the rice
For the griddled flatbread
For the garnish
Method
Heat a large frying pan and, once hot, add the oil and then the onion, garlic and ginger. Cook for four minutes, then add the chicken thighs and cook for a further 3-4 minutes. Stir in the Thai curry paste and cook for a further 3-4 minutes.

Add the squash, sweet potato, aubergine and courgette. Stir, then add the coconut milk and chicken stock.

Cook for 15 minutes, then add the cream and beans. Cook for further 10 minutes.

Meanwhile, put the rice in a large saucepan and cook to packet instructions.

For the flatbread, place the flour, salt and oil in a large bowl and add enough water to bring it together to form a dough. Knead until smooth then divide into four balls.

Flour a work surface and roll out each ball into a large circle.

Heat a griddle or frying pan and add the oil. One at a time, place each flatbread into the pan and cook on both sides for a few minutes.

To serve, place the rice on serving plates topped with the curry. Place the bread on the side and garnish with fresh coriander and spring onions.
Related Recipes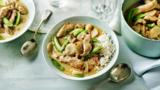 Thai chicken curry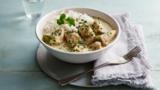 Thai green curry
This recipe is from…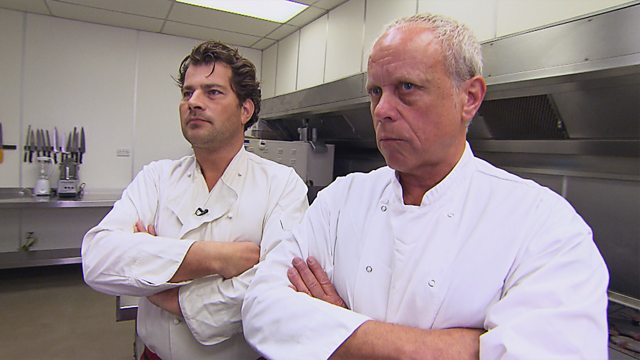 Chefs: Put Your Menu Where Your Mouth Is
9. Goldsmiths University
BBC One
Recipes from this episode