Quick recipe finder Arancini with tomato and olive tapenade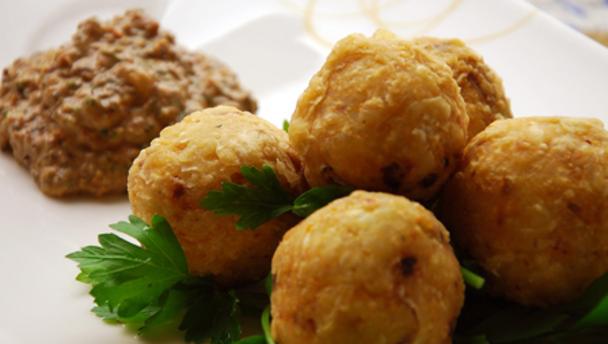 These deep-fried rice balls make a tasty snack or starter and are also a great to use up leftover risotto.

By Simon Rimmer From Something for the Weekend
Ingredients
For the tapenade
For the arancini
Method
For the tapenade, blend all of the ingredients except for the mayonnaise together until smooth. Stir in the mayonnaise.

For the arancini, melt the butter in a large heavy-bottomed saucepan. Add the rice and cook for 2-3 minutes on a low heat. When the rice starts to become a little translucent around the edges, add the wine and cook for another minute.

Add a ladleful of warm stock and stir well. When the stock has almost been absorbed, add another ladleful. Continue adding more stock until it has all been added and the rice is cooked.

Fold in the sun-dried tomatoes and spring onion and season with salt and freshly ground black pepper. Set aside to cool.

Beat the egg in a bowl, sprinkle the flour onto a plate.

Roll the rice into small balls, then dip into the beaten egg and dredge in the flour.

Half-fill a deep, heavy-based saucepan with vegetable oil and heat to 170C/325F (check using a digital thermometer). (CAUTION: Hot oil can be dangerous. Do not leave unattended).

Deep-fry the arancini for 3-4 minutes, or until golden-brown. Remove from the oil using a slotted spoon and set aside to drain on kitchen paper.

Serve the arancini with the tapenade.
Related Recipes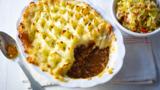 Roux family shepherd's pie with stir-fried cabbage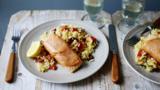 Baked salmon with chorizo rice
This recipe is from…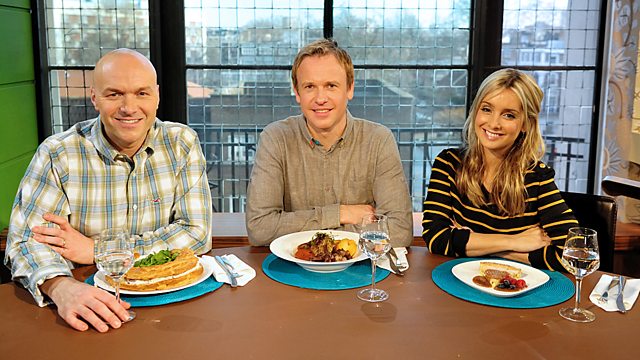 Something for the Weekend
13/11/2011
BBC Two
Recipes from this episode