Quick recipe finder Apple compôte
Apple compôte is a great way to use up a glut of apples, and makes a delicious breakfast or healthy dessert.

By Michael Caines From Saturday Kitchen
Ingredients
Method
Place the butter in a stainless steel saucepan and start to melt.

Add the apples, sugar and vanilla pod.

Cook out the apple to a compote, stirring from time to time for approximately 30 minutes on a moderate heat.

If the texture is too runny then leave to reduce until you have a thick texture.

Remove the vanilla pod, and reserve for use later.

Place the apple compote into a blender, blend to a fine pulp and pass through a fine sieve. Serve.
Related Recipes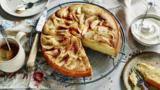 German apple cake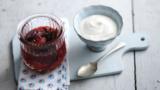 Plum compôte