Quick recipe finder Almond semifreddo
By Katie and Giancarlo Caldesi From Return to Tuscany
Ingredients
For the praline
For the semifreddo
Method
For the praline, toast the almonds lightly in a dry frying pan. Add the sugar and stir until melted and golden brown. Pour onto a lightly oiled baking sheet and, when cool, break into pieces.

Put into a blender and grind into breadcrumb-sized pieces. Don't worry if you have some larger pieces; it adds to the texture.

For the semifreddo, whip the cream until thick, then beat the egg yolks with 25g/1oz of the icing sugar until pale. Beat the whites until stiff peaks form, and add the rest of the icing sugar, beating until the mixture stands in stiff peaks.

Fold the yolks into the cream, then fold in the egg whites and the praline. Stir in the vodka and the cherry syrup if using.

Line a small loaf tin with cling film. Spoon in the cream mixture, level and cover with more cling film. Freeze for 24 hours. Leave to stand for a few minutes before turning out of the mould and serving.
Related Recipes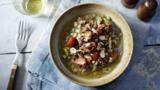 Almond lentil stew