Quick recipe finder Asian quail salad

By Matt Tebbutt From Something for the Weekend
Ingredients
For the marinade
For the quail
For the salad
For the salad dressing
Method
Preheat the oven to 180C/365F/Gas 4.

For the marinade, mix the chillies, garlic, coriander roots, salt, sugar and rice wine vinegar together in a bowl.

For the quail, place the spatchcocked quail into the marinade and marinate for a minimum of two hours, preferably overnight, in the fridge.

Remove the quail from the marinade and cut the quail in half lengthways (so that each portion has one leg and one breast).

Heat a large ovenproof griddle pan until very hot.

Thread a metal skewer through each quail half and place onto the griddle pan, skin-side down. Chargrill for 3-4 minutes, until brown griddle marks appear on the skin.

Transfer the quail to the oven to roast for 5-10 minutes, or until completely cooked though.

For the salad, place the spring onions, coriander, mint, parsley and red onion into a clean bowl and mix together.

For the salad dressing, mix together the soy sauce, lemon juice and sake (or dry sherry) in a separate bowl. Drizzle most of the dressing over the salad.

To serve, spoon a small amount of the salad onto each plate and top with two quail halves. Drizzle a little extra dressing over.
How-to videos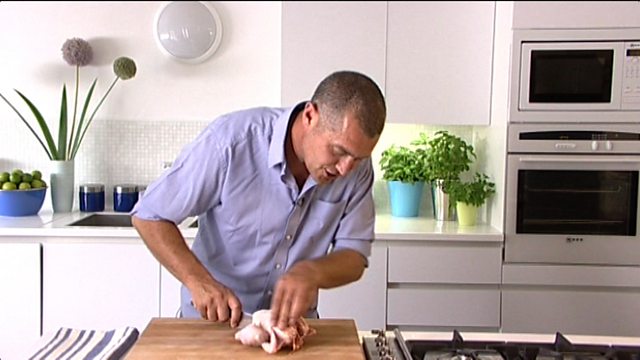 Spatchcocking chicken and poultry
Find a recipe on Quick & Easy Vegetarian Search 's recipes
Related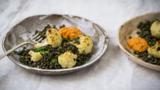 Roasted cauliflower and lentil salad with red pepper sauce
Follow Like Follow Find a recipe on Quick & Easy Vegetarian Search 's recipes