Quick recipe finder Whole baked plaice, cider onions, tarragon and anchovy butter
A simple, quick and healthy recipe from a celebrated seafood chef. And as if that wasn't enough, it's all cooked in one pot – so hardly any washing up.
By Nathan Outlaw From Saturday Kitchen Best Bites
Ingredients
For the whole plaice and cider onions
For the tarragon and anchovy butter (this makes more butter than you need for this recipe)
200g/7oz unsalted butter, softened
2 shallots, finely chopped
4 salted anchovy fillets, chopped
1 bunch tarragon, leaves picked and chopped, few leaves reserved for garnish
salt and pepper
1 lemon, cut into wedges
Method
Preheat the oven to 200C/400F/Gas 6.

In a roasting tin add the oil, onions, bay leaves and cider. Place in the oven for 15-20 minutes.

Meanwhile make the tarragon and anchovy butter. Place the butter, shallots, salted anchovies and chopped tarragon into a bowl and mix well. Season with salt and pepper and chill until you are ready to cook the fish.

Season the plaice all over and remove the onions from the oven. Place the fish on top of the onions and then return to the oven and cook for 15 minutes. To check the plaice is cooked, make an incision into the thickest part of the fish and see if the flesh is pulling away from the bone.

Place knobs of the flavoured butter across the fish and then pop the whole lot back into the oven for two minutes.

Serve it in the tray so that you can help yourselves. Serve simply with some of the cider onions, a wedge of lemon and the reserved tarragon leaves.
Related Recipes
Crisp fried plaice
Linguine with prawns and mussels
This recipe is from…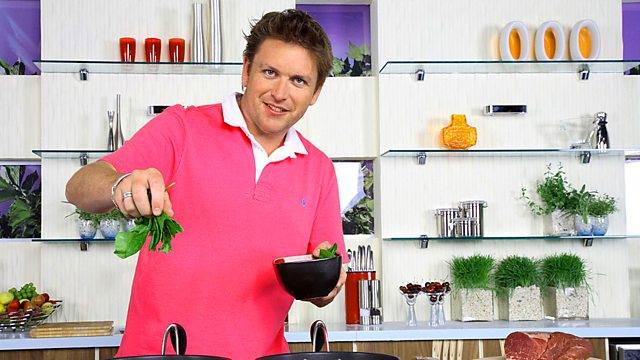 Saturday Kitchen Best Bites
218. 24/01/2016
BBC One
Recipes from this episode