Quick recipe finder Salmon Kiev
By Silvena Rowe From Saturday Kitchen Best Bites
Ingredients
Method
Preheat the oven to 190C/375F/Gas 5.

Place the butter in a small bowl and add the dill and chives. Season to taste with salt and freshly ground pepper and mix together.

Shape the butter into a sausage shape and wrap in cling film. Transfer to the freezer.

When you are ready to use the butter, cut it into four pieces.

Heat three tablespoons of water in a medium saucepan and add the sorrel leaves. Cook for a few minutes, stirring all the time, until the sorrel has wilted. Drain and set aside.

Cut the pastry block into eight equal pieces. Roll each piece into a rectangle, 18cm x 12 cm (7in x 5in).

Place a salmon fillet in the centre of four of the pastry pieces, then top with a piece of the frozen butter, then with a handful of the wilted sorrel leaves.

Brush the pastry edges liberally with the egg yolk and cover each piece of salmon with another pastry piece, sealing the edges really well. Brush with more egg wash. Trim each pastry parcel to neaten.

Cook for 25 minutes, until the pastry has puffed up and the salmon is cooked through.

Serve hot with salad leaves.
Related Recipes
Broccoli and salmon bake
This recipe is from…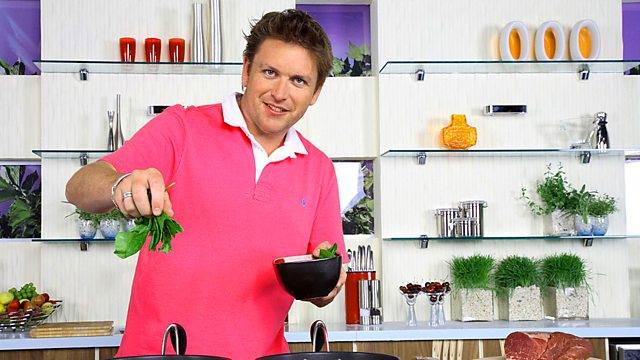 Saturday Kitchen Best Bites
Episode 100
BBC One
Recipes from this episode