Quick recipe finder Red prawn express
This recipe will take some organising (prawns are steamed through 'apple vapour' pushed through a home espresso machine). But there's no doubt that you'll have something interesting to talk about over dinner.
Equipment and preparation: you will need a piece of clean cheesecloth or muslin, a sheet of clean cut glass and a home espresso machine.
By Elena Arzak From Saturday Kitchen
Ingredients
For the langoustines
For the apple vapour
To serve
Method
For the langoustines, season the langoustines with salt and pepper. Place them in a suitable container for marinating and mix them with the remaining ingredients. Cover with cling film and set aside.

For the apple vapour, add the apple skins to the fresh juice and leave to stand for 2-3 minutes. Pass this through a fine sieve lined with a clean sheet of muslin. Pour the infusion into the water tank of a home espresso machine. Make a hole in the cling film of the langoustine dish big enough to fit the steamer nozzle through and turn the steamer on. Steam the langoustines in the apple vapour. Set aside any juices from the cooking process.

To serve, put a few drops of almond oil in the bottom of a shallow serving bowl along with the steamed langoustines and any juices they might have released. Place the flowers and croûtons on top.
Recipe Tips
Apple skins can be dried in a a dehydrator, according to manufacturer's instructions.
Related Recipes
A medley of shellfish with baby vegetables
This recipe is from…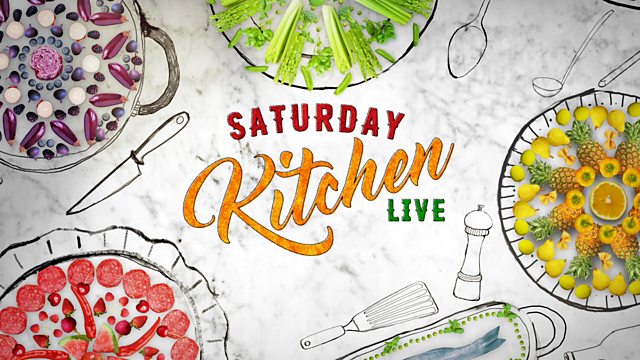 Saturday Kitchen
26/04/2014
BBC One
Recipes from this episode