Quick recipe finder Crème brûlée with sugared almonds and a rhubarb purée
Make crème brûlée extra special by serving it inside egg shells – how fun! Serve with sugared almonds and rhubrab purée for a standout dessert that is bound to impress.
Equipment: You will need an egg cutter and a chef's blowtorch.
By James Martin From Saturday Kitchen
Ingredients
For the crème brûlée
For the roasted sugared almonds
For the rhubarb purée
Method
Using an egg cutter, cut the top off the large eggs and pour out the contents. Dry the egg shells out.

Put the egg yolks in a bowl, add the caster sugar and vanilla seeds. Whisk together until pale, fluffy and well combined.

In a small pan, bring the milk and cream to a gentle boil. Gradually pour over the egg mixture.

Pour the mix back in the pan and cook until it has thickened, and coats the back of a spoon. Leave aside to cool.

Carefully ladle the mixture into the dried egg shells. Just before serving sprinkle the demerara sugar on top and carmelise it using a chef's blowtorch.

For the almonds, preheat the oven to 130C/110C Fan/Gas 1 and line a baking tray.

Lightly beat the egg white with 1 tablespoon water. Add the almonds and stir until well-coated. Mix the sugar and salt together and sprinkle over the nuts. Toss to coat, and spread evenly on the tray.

Cook for 1 hour in the oven, stirring occasionally, until golden-brown. Leave to cool.

Increase the oven temperature to 200C/180C Fan/Gas 6.

Put the rhubarb in a roasting tin. Sprinkle over the sugar, then drizzle over the juice. Roast the rhubarb in the oven for 8-12 minutes, or until just tender. Leave to cool. Place in a blender and blend until smooth.

Serve the crème brûlée egg on a serving plate alongside the rhubarb purée and sugared almonds.
Related Recipes
Almond lentil stew
Cappuccino crème brûlées
This recipe is from…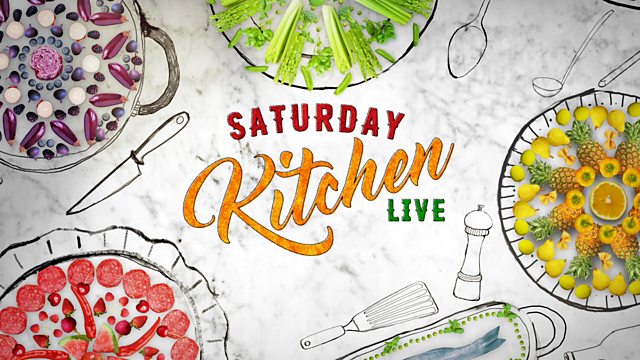 Saturday Kitchen
24/01/2015
BBC One
Recipes from this episode